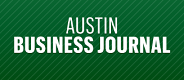 Austin-area real estate agents make WSJ-Real Trends top list
Jan Buchholz, Austin Business Journal, June 28, 2013
The Wall Street Journal and Real Trends Inc. published its annual list Friday of the top 1,000 real estate agents in the country in four categories: top individual agent based on number of transaction sides, top individual based on volume, top team based on transaction sides and top team based on volume.
Some Austin-area agents made the cut, though the list is heavy on agents and teams from California and New York.
Frank Rainosek of Re/Max Bastrop Area ranked 228th for an individual based on transaction sides with 135.
The Austin Real Estate Experts, a large team with Keller Williams Realty Inc. in Cedar Park, made both the team volume and transaction side list.
Austin Real Estate Experts ranked 120th for transaction volume with almost $85 million in total sales. The same team ranked 47th for transaction sides with 422.2.
The members of the team are Matt Menard, Greg Young, Tanya Bilisoly, Diane Brosig, Shelley Clawson, Alysson Cozart, Denise Braun, Sarah Duncan, Tiffany Ontiveros, Michael Gatlin, Amanda Godwin, David Griffith, Kellye Hancock, Kelley Leach and Marisela Menard.
The top individual on both lists was Ben Caballero, an agent for HomesUSA.com in Addison. He had a staggering 2,267 transaction sides for $668.4 million. The top team for transaction volume was Jill Eber and Jill Hertzberg of Coldwell Banker Residential Real Estate/NRT in Miami Beach, Fla., with $480.8 million in sales. The top team for transaction volume was the John Murray Team REO with Key Realty in Rockford, Ill., with 1232 transaction sides.